good for australia

When you buy from ABC, you're supporting Australian jobs. We're the only major tissue products company that is Australian owned and managed.

We don't have to report to boards overseas, so we can respond swiftly to your needs.

ABC has invested heavily in manufacturing facilities in Australia and New Zealand. We are in the final stage of Australia's most advanced high tech paper mill in Sydney.

We have also developed significant export markets, taking Australian tissue products to the world.

Our purchase of Softex Industries in Brisbane, with its advanced paper recycling plant, puts us at the forefront of environmental responsibility in our industry.

We make de-inked recycled tissue paper with the fastest breakdown possible. We use chlorine-free and environmentally-friendly processes. Virtually all of our mill wastewater is recycled, and the solid waste material is recycled as soil conditioner.

We have created a Recycling and Document Destruction division to collect the waste paper from Australia's offices.

It all adds up to keeping Australia cleaner and greener. So does our ongoing support of the Great Barrier Reef Research Foundation (www.barrierreef.org.au) , helping preserve our marine heritage for future generations.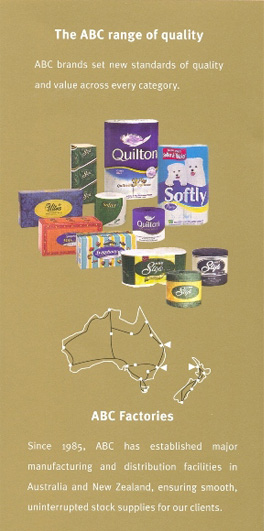 THE QUALITY YOU WANT, THE RANGE YOU NEED



You probably see more sales reps and do more paperwork than you'd like to.

ABC makes purchasing so much simpler, because we offer a much wider range of products.

When you buy from across the ABC range, you get better value from your increased purchasing power. With fewer deliveries and less paperwork, stock control and invoice processing becomes a great deal easier.

We're obsessive about product quality. We travel the world looking for new materials and new techniques to make our products better.

From the softness of our toilet tissue to the durability of our commercial bathroom fittings, ABC's product development team is committed to exceeding your expectations of quality.

ABC can provide you with:
Toilet tissues
Facial tissues
Dispensers
Hand towels
Serviettes
Table covers
Hand cleanser systems. And more.